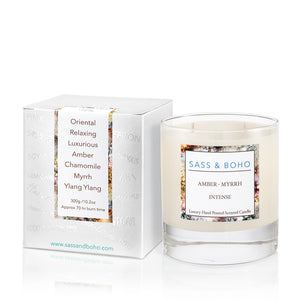 A Luxurious and Relaxing Oriental Fragrance. 
The sweet amber opens up a world of comforting warmth, evoking a sense of tranquility and relaxation. It is as if you have stepped into a tranquil oasis, a sanctuary from the outside world.
Myrrh's subtle smoky undertones and resinous sweetness blend harmoniously with the amber, creating a sensory symphony that transports you to a realm of pure bliss.
Indulge in the ultimate relaxation experience as our Amber & Myrrh Luxury Candle casts its comforting spell over you. Whether you choose to set the mood for a tranquil bath, a cozy evening by the fireplace, or a peaceful meditation session, this candle will be your steadfast companion, providing an exquisite sensory escape from the demands of everyday life.
Bergamot - Roman Camomile - Jasmine - Cedarwood - Amber - Vanilla - Myrrh 
Soy & Coconut Wax Scented Candle.
300g / Approx 70 hr burn time.
Vegan - Cruelty Free