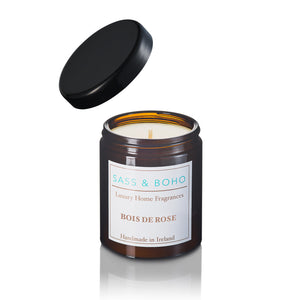 Bois de Rose
Bois de Rose, also known as Rosewood, encapsulates the essence of sophistication and elegance.  As the fragrance unfolds, revealing an exquisite bouquet of woody, floral, and sweet notes that ignite the senses. 
The top notes of this fragrance evoke a sense of mystery, with the subtle whispers of Incense and rich Oud setting the stage for a luxurious experience. As the scent develops, the heart reveals the velvety embrace of Red Rose Petals and juicy red berries.  A timeless scent that is sensual and elegant. 
Incense - Oud - Rosewood - Red Berry - Cedarwood - Rose Petals 
Travel Candle
Soy & Coconut Wax Scented Candle
180g / Approx 30 hr burn time.
Vegan - Cruelty Free