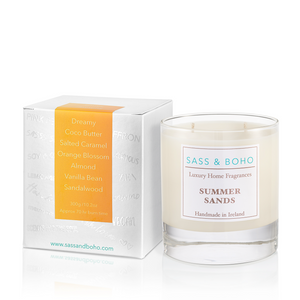 Summer Sands
A stunning fragrance that captures the essence of summer in a single flickering flame. Immerse yourself in a sensory journey that transports you to sun-drenched sandy beaches, tropical breezes, and the carefree spirit of the Summer season.
As you light the Summer Sands Candle, the captivating blend of salted caramel, coco butter, orange blossom, vanilla bean, and almond fills the room, conjuring the spirit of summer and enveloping you in an atmosphere of relaxation and tranquility.
Cocktail anyone???
Coco Butter - Salted Caramel - Orange Blossom - Vanilla Bean - Almond
Soy & Coconut Wax Scented Candle
300g / Approx 70 hr burn time.
Vegan - Cruelty Free