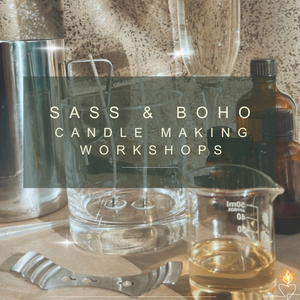 Step into an Enchanting Evening of Candle & Wax Melt Crafting and Creativity.  Having Fun, Embracing Cozy Autumn-Winter Vibes and indulging in a little bubbly along the way. 
Location:  Kilcronagh Business Park, Cookstown, Co.Tyrone
Duration:  Approx 2.5 Hours 
Price: £60
Price Includes:
Your own handcrafted, uniquely scented, double wick candle and wax melt, beautifully packaged and ready to take home.
Personalised Labels for both candle and wax melt.
Complimentary gift bag.
Welcome drinks to set the mood for an unforgettable evening.
Interval drinks to keep your creative spirit refreshed, accompanied by delicious finger foods.
An exclusive 30% in-store discount on all our premium collections.
A memorable and enchanting evening you will cherish.
Bring Your Own Welcome Throughout The Workshop (BYO)
Feel free to bring your favourite alcoholic beverages to enjoy responsibly throughout the workshop. We'll provide glassware for your convenience.

Non alcoholic beverages will be provided by us, but again if you have a preference please feel free to bring your own.

Please advise of any food allergies when booking online in the notes section.
We are very excited to embark on this enchanting day evening of fragrance and candle crafting. We hope you leave with not only your beautifully crafted candles and wax melts but also cherished memories.  Enjoy your unique creation and the wonderful memories made here at the Sass & Boho Workshop. 
For Larger parties; Christmas Parties, Hen Do's, Team Building etc we can accommodate up to 26 guests.  Please email info@sassandboho.com for further information. 
Gift Vouchers will also be available for our Candle Making Workshops. 
Wheelchair access and facilities are available.