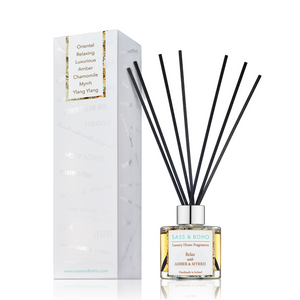 A Luxurious and Relaxing Oriental Fragrance. 
The sweet Amber opens up a world of comforting warmth, evoking a sense of tranquility and relaxation. 
Myrrh's subtle smoky undertones and resinous sweetness blend harmoniously with the Amber, creating a sensory symphony that transports you to a realm of pure bliss.
Indulge in the ultimate relaxation experience as our Amber & Myrrh Luxury Fragrance casts its comforting spell over you. 
Bergamot - Roman Camomile - Jasmine - Cedarwood - Amber - Vanilla - Myrrh 
100ml
Lasts Approx 6-8 Months
Vegan - Cruelty Free