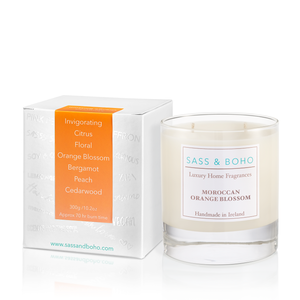 Moroccan Orange Blossom
Inspired by the vibrant culture and aromatic landscapes of Morocco, this candle captures the essence of relaxation and exotic charm.  A sensory journey that transports you to the sun-drenched groves of Morocco, where fragrant orange blossoms fill the air creating a serene and uplifting ambiance that rejuvenates the senses.
Whether you seek a moment of relaxation, desire to infuse your home with an aura of elegance, or simply want to transport yourself to the vibrant landscapes of Morocco, this candle is the perfect companion, immersing you in an aromatic journey of luxury and delight.
Orange Blossom - Bergamot - Peach - Cedarwood - Sandalwood
Handmade In Ireland
Soy & Coconut Wax Scented Candle.
300g / Approx 70 hr burn time.
Vegan - Cruelty Free