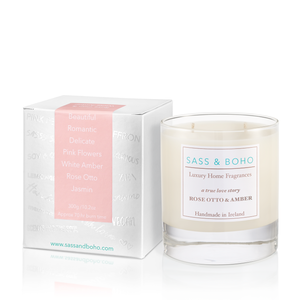 Rose Otto & Amber - A True Love Story  
A truly, romantic fragrance.

Embark on a journey of romance and elegance with our Rose Otto & Amber Luxury Candle. This exquisite fragrance tells a true love story, capturing the essence of blooming pink Bulgarian roses, delicate rose petals, white amber, and enchanting jasmine adding an enchanting touch to your wedding or creating a romantic atmosphere for any special moment.
As the candle is lit, the aroma of rose notes dances through the air, creating an atmosphere of pure romance. The pink Bulgarian roses take center stage, exuding their intoxicating fragrance and evoking the image of a lush garden in full bloom. The delicate rose petals gently infuse the air, adding a touch of softness and femininity to the composition.
Underlying the floral bouquet, the warm and sensual embrace of Amber adds depth and richness to the fragrance, creating a harmonious balance.  A subtle and sophisticated scent, exuding a sense of luxury and elegance.
Bulgarian Rose - Rose Otto - White Amber - Jasmin - Rose Petals
Handmade in Ireland
Soy & Coconut Wax Scented Candle.
300g / Approx 70 hr burn time.
Vegan - Cruelty Free