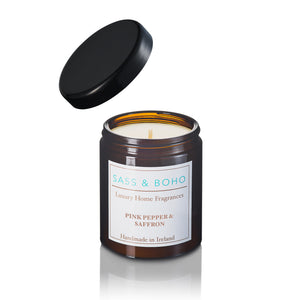 Pink Pepper & Saffron
A captivating blend inspired by the idyllic beauty and vibrant energy of the stunning Greek island of Mykonos.  Immerse yourself in the enchanting ambiance of this fragrance, designed to transport you to a world of Mediterranean charm and indulgence.  
The fiery and peppery notes of pink pepper mingle with the warm and exotic essence of saffron, creating a harmonious symphony that evokes a blissful evening spent overlooking the Aegean Sea. The scent transports you to the whitewashed villages, bustling markets, and lively streets of Mykonos, infusing your surroundings with a sense of luxury and adventure.
Spicy - Sexy - Pink Pepper - Vetiver - Saffron - Musk
Handmade in Ireland
Soy & Coconut Wax Scented Candle.
180g / Approx 30 hr burn time.
Vegan - Cruelty Free