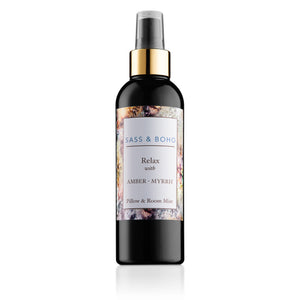 A Luxurious and Relaxing Oriental Fragrance.
Amber & Myrrh Pillow & Room Mist, designed to infuse your surroundings with an aura of opulence and tranquility.  Immerse yourself in the captivating blend of warm amber and mystical myrrh, beautifully captured in this elegant mist.
With a gentle spritz the mist delicately scents your pillows and blankets, creating an inviting atmosphere of relaxation and serenity. The rich, golden notes of amber instantly envelop your senses, creating a comforting embrace that soothes and calms the mind.
Infused with high-quality ingredients and essential oils our Amber & Myrrh Pillow & Room Mist ensures a long-lasting and even distribution of fragrance. 
Whether you're preparing for a restful night's sleep, creating a serene ambiance for meditation, or simply seeking a moment of respite, this luxurious mist will transport you to a world of pure relaxation and bliss.
Bergamot - Roman Camomile -  Ylang Ylang - Cedarwood - Amber - Vanilla - Myrrh
Directions:
Spritz 4/5 pumps of mist around your room for an instant burst of fragrance to help relax and unwind.
Spritz 2/3 pumps of mist at arms length on your pillow a few minutes before getting into bed.  Our essential oil blend helps relax the mind and body for a good nights sleep.
200 mls
Vegan - Cruelty Free - Alcohol Free