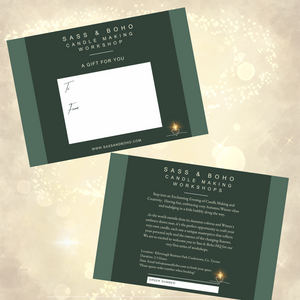 What an Amazing Gift for Candle/Wax Melt Lovers!
Our Beautifully presented Workshop Gift Vouchers can be posted directly to your loved one.  Just let us know 'TO: FROM:' and any additional notes you would like to add in the note section.  If you would like to fill out the gift card personally, please leave 'note' section black and we will post directly to you.
If you are purchasing as a Christmas Gift, our Workshop dates for 2024 will be posted on our website at the stat of December.
Workshop Itinerary:

Step into an Enchanting Evening of Candle & Wax Melt Crafting and Creativity.  Having Fun, Embracing Cozy Autumn-Winter Vibes and Indulging in a little Bubbly or Mulled Wine along the way. 
Location:  Kilcronagh Business Park, Cookstown, Co.Tyrone
Duration:  Approx 2.5 Hours 
Price: £60
Price Includes:
Your own handcrafted, uniquely scented, double wick candle and wax melt, beautifully packaged and ready to take home.
Personalised Labels for both candle and wax melt.
Complimentary gift bag.
Welcome drinks to set the mood for an unforgettable evening.
Interval drinks to keep your creative spirit refreshed, accompanied by delicious finger foods.
An exclusive 30% in-store discount on all our premium collections.
A memorable and enchanting evening you will cherish.
Workshop Itinerary:
1. Arrival & Welcome Drink Reception (10 minutes)
As you arrive, you'll be greeted with a glass of bubbly/non-alcoholic drinks to set the mood for a fun and relaxed evening.

Mingle with fellow participants and get to know each other in our cozy workshop space.
2. The Art Of Fragrance (10 minutes)
Our expert candle-maker, Laura, will introduce you to the fascinating world of candle fragrances.

Learn about different fragrance families, notes, and their effects on mood and ambiance.

Discover the secrets of blending scents to create your own unique fragrance.
3. Create Your Signature Scent (45 minutes)
It's time to let your creativity shine! A

nd start crafting your very own custom fragrance.

Autumn/Winter Scents are the best!

Choose from an array of premium fragrance oils and essential oils to blend your perfect scent.
4. Candle Making (30 minutes)
Now, the hands-on fun begins! You'll be provided with all the materials you need to create your very own double-wick candle and wax melt.

Laura will lead you through each step of the candle-making process, from melting the wax, choosing the wicks and adding your unique fragrance oil blend.
5. Interval (15 minutes)
While your candle and wax melt set, take a break to enjoy more bubbly, indulge in delicious treats, and socialise with fellow participants.

Browse our shop and explore our selection of premium Sass & Boho products, with an exclusive in-store discount on all Collections for workshop attendees.
6. Q & A with Owner Laura (10 minutes)
Have burning questions about candles, fragrance, or the home fragrance business? Laura will answer all your questions in an engaging Q &A session.

Gain insights into the world of luxury home fragrances and entrepreneurship.

Learn about the inspiration behind Sass & Boho and the creative process.
7. Final Touches (15 minutes)
Return to your beautifully set candle and wax melt, now cooled and ready to be revealed.

Brainstorm and be creative in choosing the perfect name for your custom made, unique scented candle and wax melt.

Personalise your labels. 

Admire your finished masterpieces before placing it in one of our beautiful Sass & Boho Candle boxes to take home.  Gift bags will be provided for your finished products.
Bring Your Own Welcome Throughout The Workshop (BYO)
Feel free to bring your favourite alcoholic beverages to enjoy responsibly throughout the workshop. We'll provide glassware for your convenience.

Non alcoholic beverages will be provided by us, but again if you have a preference please feel free to bring your own.

Please advise of any food allergies when booking online in the notes section.
We are very excited to embark on this enchanting day evening of fragrance and candle crafting. We hope you leave with not only your beautifully crafted candles and wax melts but also cherished memories.  Enjoy your unique creation and the wonderful memories made here at the Sass & Boho Workshop. 
For Larger parties; Christmas Parties, Hen Do's, Team Building etc we can accommodate up to 26 guests.  Please email info@sassandboho.com for further information. 
Wheelchair access and facilities are available.