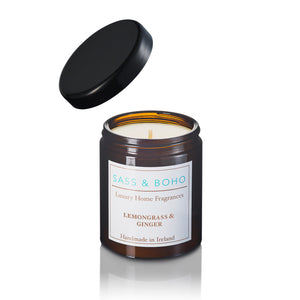 Lemongrass & Ginger 
The invigorating embrace of our Luxury Lemongrass & Ginger Candle lets its exquisite fragrance awaken your senses and revitalize your space.  Elevate your surroundings with the vibrant citrusy notes of lemongrass and the warm spiciness of ginger, and experience the energizing and rejuvenating qualities that will leave you feeling refreshed, inspired, and ready to embrace the day.
The aroma revitalizes your environment, whether you're enjoying a spa-like bath, unwinding after a long day, or creating an ambiance of freshness and vitality for social gatherings.
Crafted with the finest ingredients, this luxury candle ensures a clean and even burn, allowing the fragrance to disperse gradually and consistently throughout your space.
Lemongrass - Spicy Ginger Root - Grated Nutmeg - Patchouli - Spiced Herbs
Handmade in Ireland
Soy & Coconut Wax Scented Candle
180g / Approx 30 hr burn time.
Vegan - Cruelty Free