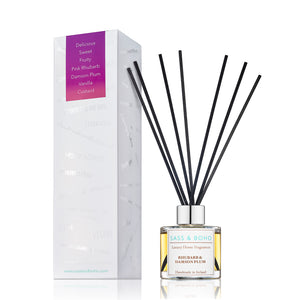 Rhubarb & Damson Plum 
As the Fragrance begins to disperse, the room comes alive with a vibrant and invigorating aroma. The initial notes of freshly picked pink Rhubarb deliver a zesty burst of energy, awakening your senses and setting the mood for an enchanting experience. The succulent, velvety richness of Damson Plums then join in, enveloping the air with their rich, ripe sweetness.
Adding depth and warmth to the fragrance, the velvety smoothness of vanilla and custard emerges, infusing the air with its delectable creamy scent. This creamy sweetness complements the tartness of Rhubarb and the juiciness of Damson Plums, creating a truly irresistible olfactory symphony that fills the space with a comforting and cozy ambiance.
Sweet - Fruity - Pink Rhubarb - Vanilla - Custard - damson Plum
Handmade in Ireland
100mls
Lasts Approx 6-8 Months
Vegan & Cruelty Free