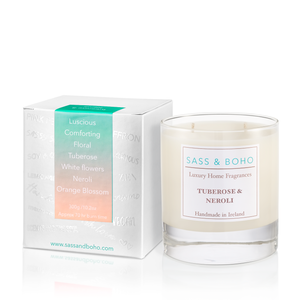 Tuberose & Neroli
A captivating blend of Tuberose and Neroli flowers that evokes a sense of elegance and serenity.
As you ignite the candle, the aromatic dance of orange blossom unfolds, releasing a delightful burst of citrusy freshness. The vibrant and uplifting essence of orange blossom creates an instant feeling of joy and tranquility, lifting your spirits and setting a harmonious ambiance.
Amidst the citrusy notes, the delicate allure of white flowers emerges, gently mingling with the orange blossom. The prominent Tuberose note adds a touch of creamy sweetness, its velvety petals infusing the air with a heady and intoxicating aroma. The Tuberose captures the essence of passion and beauty, captivating your senses and creating a truly immersive experience.
Complementing the Tuberose, the essence of Neroli subtly intertwines, adding a hint of bitterness and complexity to the fragrance. The Neroli brings a sense of sophistication and refinement to the composition, creating a harmonious balance with the vibrant orange blossom and the creamy Tuberose.
Floral - Calming -Tuberose - Orange Blossom - Neroli - White Flowers
Soy & Coconut Wax Scented Candle.
300g / Approx 70 hr burn time.
Vegan - Cruelty Free